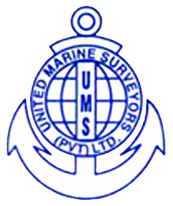 We feel great pleasure in introducing United Marine Surveyors (Private) Limited, Pakistan; established in 1988 as an independent and neutral Marine Surveyors, rendering services to shipping industry in Pakistan and aboard.

UMSPL is licensed for Marine, Fire, Motor, Machinery Erection & Breakdown Insurance Surveyors by Security and Exchange Commission of Pakistan. The company is also an ISO 9001:2008 certified, accredited by BVQI.

We are involved in surveying vessels on behalf of leading P&I Clubs & Ship's Hull & Machinery Damage / Loss Assessment on behalf of Hull & Machinery Underwriters, Loss & Damage to Fixed & Floating objects, Dry & Liquid Bulk Cargoes for sampling & out-turn assessment, Industrial Surveys, Container Damage Surveys, recommendations & verification of satisfactory repairs & assessment of loss pertaining to Containers & Cargoes.

We have comprehensive team of Surveyors, who are ex seafarers Master Mariners, First Class Marine Engineers, having long sailing experience on various type of vessels and shore based activities as Marine Surveyor assisted by well qualified Mechanical, Civil & Chemical Engineers, to undertake all types of Marine Surveys pertaining to Dry, Liquid & General Cargoes, Ships condition surveys, assessment & adjustment of damages to ship's Hull & Machinery, Cranes, Containers, Tank Calibration & various machineries.
Services
As the world changes, so do your business needs. And their consequences can be rapid and extensive. We look at your business needs and requirements from an array of angles. Following are our company's line of services:

- Marine
- Insurance
- Container
- Liquid Bulk and Gaseous Cargo

Qualified Human Resource
We have a team of Surveyors & Inspectors to provide satisfactory services to our Clients; who are qualified and have decades of experience at their credit:

- Master Mariners
- Marine First Class Engineers
- Mechanical Engineers
- Civil Engineers
- Chemical Engineers
- Electronic Engineers
- Agriculturists & Entomologist
- Technician for various Instruments

Client Relationships
Ever since our inception, we have been rending our services in order to determine the cause & extent of damage and loss adjustments, to following prominent sectors:

- World's leading P&I Clubs
- Hull & Machinery Underwriters
- Ship-owners, Charterers, Managers
- Local Leading Cargo Underwriters
- Steel Mills, Oil Refineries
- Power plants, Industrial units &
- Local Trading Houses
(Public & Private Sectors)

Learn more ›